Martin Erhardt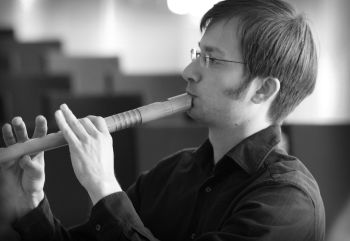 Martin Erhardt dedicates his musician's life to art as well as pedagogics, to theory as well as practice, to improvisation as well as composition and interpretation, to the Middle Ages as well as the renaissance and baroque period. Born in Kronach in 1983, he studied recorder with Prof. Myriam Eichberger, harpsichord/early keyboard instruments with Prof. Bernhard Klapprott and music theory with Prof. Klaus Heiwolt at the Hochschule für Musik Franz Liszt Weimar. He completed his studies, absolving a master's degree for "Early modal music" at the Fontys Conservatory in Tilburg, Holland, with Prof. Dr. Rebecca Stewart and Prof. Maurice van Lieshout. Since 2006 he has been teaching music theory and Improvisation in Early Music at the Hochschule für Musik in Weimar and recorder at the Konservatorium in Halle (Saale). In addition, since 2009, he has been teaching Improvisation in Early Music at the Hochschule für Musik und Theater Felix Mendelssohn Bartholdy Leipzig.
He also taught at many workshops for Improvisation in Early Music in Frankfurt/Main (D), Lyon (F), Bergen (N) and Cosenza (I). At project weeks dedicated to special topics within the field of Early Polyphony, he is teaching regulary in Halle, Prague and Tilburg.
Since 2005 he has established a scene for improvisation in Early Music in Weimar, Leipzig and Dresden with the legendary Early Music-JamSessions. He is the author of the textbook »Improvisation mit Ostinatobässen« and the director of the Leipziger Improvisationsfestival, probably the only festival completely dedicated to concerts, workshops, jam-sessions and lectures about improvisation in Early Music.